At Sylvia McLain Professional Real Estate Group, we believe that building your dream home should be one of the most rewarding and pleasant journeys you and your family experience in life. After all, it is one of the most important investments you will make. From choosing where you live to the color of the walls in your new home, we have the expertise to assist you!
There are so many beautiful home sites available in the Acadiana Area. No matter if you would like to live in a planned development, a quaint private neighborhood, or on the outskirts of town we have the experience and knowledge to help you start your journey and complete it with confidence and satisfaction.
By the way! Did you know that as a Buyer you are not obligated to pay any Realtor fees when you are the purchaser? You should consider a Louisiana Licensed Real Estate agent who has experience with neighborhood development, home building, and has lived in the area that you are considering as your home. Visit www.sylviamclain.com for your personal, Professional Real Estate Group that specializes in custom home real estate! Here's a quick guide on how to get started.
1. Determine Your Budget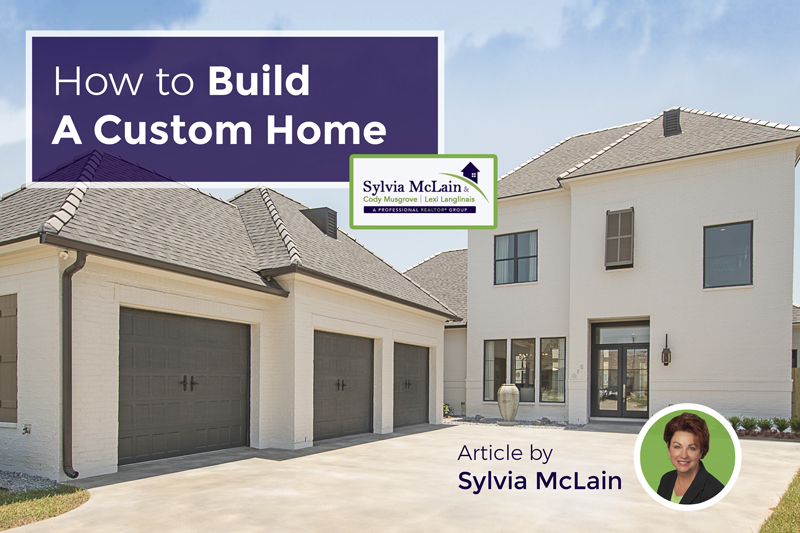 Get Preapproved - Have a financial institution appraise what you can afford.
You'll have to have a bottom line in mind before you even begin to look at lots and land upon which to build your new custom home.
If you don't have a lender in mind, we can share the contact information of lenders that we have worked with over the past 16 years. Contact our office www.sylviamclain.com for a list of local lenders experienced with lot and land financing - there are plenty of great options available.
NOTE: When making your application remember that debt to income is very important as well as your credit scores. Be prepared to provide your income and expense information. We recommend that you shop your loan, but in the process that you do not allow more than one lender to run your credit scores. Once the first lender runs your credit scores, request a copy of the reports for your records, provide a copy of your credit report tor other lenders.
Talk with financial professionals about your total "construction and land" affordability. Here are the questions you'll need answered:
What monthly payment can I afford?
What total amount do I qualify for?
Will my payments be affected if interest rates increase or is my rate fixed for the term of the loan.
How does the financing and closings work for the purchase of my lot, the home construction loan, and converting all into permanent long term financing?
Does the construction loan convert into permanent financing with no additional closing cost?
What about Property Taxes, Home Owners Insurance, & HOA Dues?
Depending on the specifics of your loan, property taxes and/or home owner's insurance may be included in your monthly payment. If it's set up this way, a portion of the total tax bill and/or your home owners premium are added to your monthly payment each month. This is referred to as escrow funds. The lender then pays the city and/or parish at the end of the year out of your escrow account.
Home Owner's Association (HOA) Dues can be applicable when purchasing land within a neighborhood. HOA Dues cannot be included in your monthly loan from a lender therefore you should always ask what the HOA dues are and be prepared to pay this amount outside of your note. Individual neighborhoods have different options so be sure to ask your realtor or the person you are purchasing your lot from about the Home Owners Association and who you should contact for more information.
You'll need to ask these questions in order to be prepared for your true monthly cost and figuring your home purchase budget.
2. Determine your location
LOCATION, LOCATION, LOCATION is still considered by most Real Estate Professionals as the three most important factors for any deal.
Sylvia McLain's Professional Real Estate Group can help you find the perfect place to build your new home. Here's some tips on how to make the right decisions. This is the first step in remaining in your budget!
How much should I pay for a lot for my new Custom home?
Yes, the price you pay for the site (sometimes we refer to it simply as "the dirt") will be your first step in staying within your overall final budget. Not only the location, but size, amenities and buildability of your building site are important considerations. The Professional Real Estate Group can offer guidance, but it's really all about what's important to you. You're going to have to prioritize as you make choices and we are here to help you with doing just that!
How Much Should I Pay for my Lot or Land?
As a general guideline, the cost of your lot or land should be no more than 15-20% of your total "house and land" budget.
$150,000 total budget = $22,500 to $30,000 lot or land cost
$200,000 total budget = $30,000 to $40,000 lot or land cost
$300,000 total budget = $45,000 to $60,000 lot or land cost
$400,000 total budget = $60,000 to $80,000 lot or land cost
$500,000 total budget = $75,000 to $100,000 lot or land cost
The formula can change a bit for a large amount of acreage - for instance, you might reasonably construct a home with a $250,000 construction cost on a 10-acre parcel which costs $100K.
Do check that your planned home corresponds with other homes in the neighborhood/area so that your future resale value is protected.
Sylvia McLain's Professional Real Estate Group can research and give you specific details about the lots or land you're considering. That's where size, amenities and buildability impact the price of the home – as well as its future value.
This Professional Real Estate Group has years of experience in purchasing land, building homes, as well as planning and building neighborhoods. We will be able to compare your lot price with other lots in the area.
Research location, lot prices, and geographical issues such as flood zones, school districts, etc.
Research amenities for your land such as water, drainage, power, and services.
Determine your lot size needs for your new custom home and provide information about how to proceed with getting the proper site plan. Corner lots in developments have specific variances in many cases.
Determine if there are any easements, liens, or outstanding assessments due on the lot before purchasing.
3. Things to consider when selecting your neighborhood
When considering the value of a lot in a neighborhood it's important to know what amenities are offered. Often times when assisting clients with finding a home we notice that Buyers are more focused on a specific home or lot location in the neighborhood. Many times, the Buyer has not noted important infrastructure amenities of the development. All the following items have value and should be compared. This is a list to be noted and considered when comparing lot prices in different developments:
Private or public streets
Curb and gutter
Sidewalks
Entry Enhancements
Signage
General Landscaping
Street Lighting
Mail box style
Available Common areas
Parks and Trees
Playgrounds
Pools and/or pavilions
Club houses
Lakes
Walking trails
Utilities
Flood Zones
Type of perimeter fencing
Covenants of the Neighborhood
Surrounding area to entry of Neighborhood
NOTE: Gated communities are often mandated private and are maintained by the HOA and not the municipality it is located in.
4. Select your Builder
What kind of Builder are you looking for?
Your first step in deciding on a builder will be to educate yourself on the different types of builders that work in your community.
NOTES: Custom home plans can cost between $1.50 - $4.00/sq. ft. on average (it can go much higher) depending on the architect and details of the home. Not all plans are drawn by Architects. Draftsmen, Designers, and other professionals may also be considered to draw your single family residential plans.In the state of Louisiana persons acting as designers for single family residences & buildings that are to be constructed for personal use do not require architect stamped house plans.
Custom Builders – specialize in larger, unique, and very custom homes. These Builders typically offer cost plus or turnkey contracts for homes with custom plans required. The homeowner provides all financing and will typically pay the builder on a draw schedule as the home is completed. There are many variables that can be customized in this situation. Many variations of contract agreements are available to fit each private individual.
Speculative & Custom Home Builders – specialize in building custom homes that are designed and financed by the Builder, made available for purchase during or after the building process. These builders will also contract to build your custom home from scratch and are typically interested in and specialize in a certain price point homes.
Track or Production Home Buildersare developers or builders who own a large plot (track) of land, which is divided into numerous smaller lots for "stock plan homes" to be built on. A Track or Production builder generally has model homes that will be the home designs built on these lots. Generally, there is not a lot of opportunity to make changes to these homes. Track builders are large-volume builders and build all types of housing. This is sometimes the best option for the larger family who needs more living square footage, but is on a stricter budget.
Your builder may share a plan that he has purchased and owns, but is not the person to make adjustments, changes, or revisions. Builders will sometime share a plan and request that you pay the re-use fee to the person who drew the plans or for any revisions you might like.
Ask your builder for a website, look them up on Facebook, make sure you request references and look at as many of the Builder's completed homes as are available to you.
What kind of Contracts do Builders offer?
Before you begin any project, you will need to see a sample contract, have a firm bid if you have decided to do a turnkey or an estimated cost of your project if you plan to do a cost plus.
It is our experience that the most important part of your contract is directly associated with allowances for your selectable items i.e., flooring, lighting, appliances, plumbing fixtures, tile, etc.…
Your Professional Real Estate Group should be able to negotiate and assist you through this part of your contract. There should be no question as to what the allowance will be for all selectable items.
One other important factor to negotiate is a reasonable time line. Your builder should be able to give you an estimated timeline with a few variables such as weather.
5. Things you should know before you begin construction
Before your builder begins construction, you may want to discuss the following information.
The elevation of your slab and if additional dirt might be required for proper drainage.
Does your lots' rain water travel to the front of the lot or to the rear?
If your lot drains to the front or curb, your slab elevation should be at an elevation that allows your backyard to be slightly higher than your front yard allowing rain water to drain properly.
Where will your utilities and water meters be located on the lot?
Will you need an additional water meter for a lawn and landscape sprinkler?
Discuss selections that you will be responsible for and time lines for those decisions with your builder.
What are your builders' policies for your upgrades, change orders, and modifications after construction begins?
How will your final walk through and punch list be handled?
Discuss and understand the Louisiana Law for the "New Home Warranty".
Of course, there are many variables and considerations that are important when deciding to build your Dream Home. Our Professional Real Estate group has the experience, resources, and desire to make sure your Dream Home Journey is a pleasant and fulfilling one that satisfies your needs and Dreams.
I hope you find some of the information in this article helpful on your journey to building your Dream Home! Please feel free to call me on my personal cell if you have additional questions or need assistance with the Building process.
If you are ready to build your home let us help you! Contact Sylvia McLain Realtors now →