Whether you're in a 1-bedroom city apartment or a 5-bedroom suburban house, getting your bedrooms in order before listing is a must. There are no rules about how to decorate your bedroom to sell a house for top dollar, but the consensus among designers and Real Estate Professionals is that cleanliness and a neutral design are the most important.
Bedroom staging tips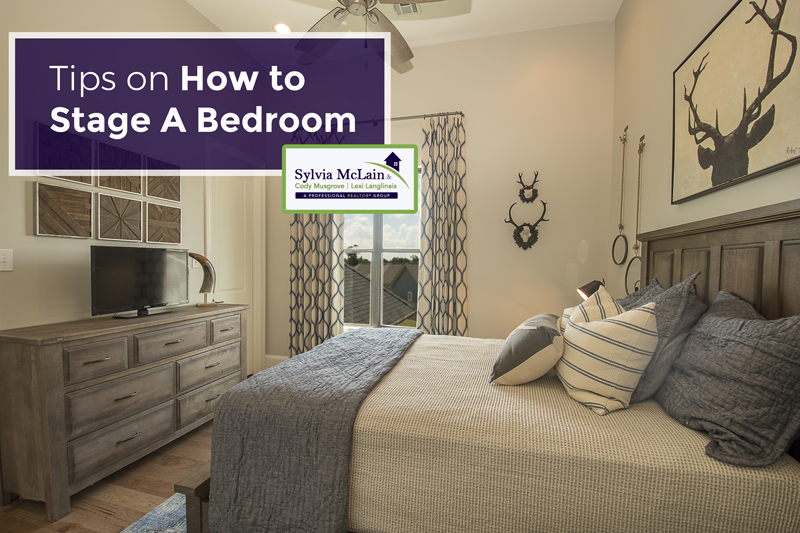 No matter the size of the bedroom, your first step is decluttering, depersonalizing and cleaning. And while it may seem like a lot of upfront work, decluttering now means easier packing and moving once the home sells.
Pare down closets
Take a few tips from organizer Marie Kondo and sort items in bedroom closets based on your emotional attachment to them, particularly clothes. You might consider keeping only the items that "spark joy." If you're not ready to part with sentimental items, put them in storage or tuck them away in neatly organized bins.
Depersonalize
Buyers want to picture themselves and their families living in the home, so you may want to remove some of your personal items like family photos and keepsakes. If you are worried about nail holes or marks on the wall from removing your family photos consider replacing the picture in the frame with something more generic, like landscape or architecture images. Some frames will allow you to simply cover the family photo with the new generic scene which can be easily removed later.
It's also important to remove named decor, like taking kids' names off the wall and removing monogrammed pillows or towels.
Clean thoroughly
You're still living in the home, so perfection is unlikely, but bedrooms should look as much like a nice hotel room as possible. If you already vacated the home, stop by regularly to stay on top of dust and dirt.
Here's a cleaning checklist:
Vacuum carpets and floors.
Mop (if you don't have wall-to-wall carpet).
Dust baseboards, molding, door trim, ceiling fans and lights.
Wipe down furniture using a wood-safe cleaner.
Clean windows inside and out.
How to stage a master bedroom
Staging a master bedroom can have a big impact, so it's a good place to start. The buyer will likely be the one using the master bedroom, so impressing them is key.
Use a neutral color scheme! Try to stay away from patterns and floral designs. Master bedrooms should appeal to buyers of all genders and ages, as you never know who will become your buyer. Overly feminine or masculine decor, or design that speaks to a very specific aesthetic, can deter buyers who can't see past it.
Stick to neutral colors like grays, light beiges or whites, and warm things up with accessories like throw pillows and blankets. Add pops of color with greenery, vases, frames or unlit candles. When in doubt, blue makes a great accent color, because it's soothing and reminiscent of the ocean or a clear blue sky.
Tips for staging a bed
Linens make your master bedroom feel warm and welcoming. Use crisp white bedding to give the feel of a luxury hotel. If you purchase it new, you can take it to your new home. Make the bed properly with hospital corners, a neat bedspread or duvet, and accent throw pillows.
How to stage a bedroom dresser
Unlike a closet or other built-in storage space, buyers aren't likely to look inside your dresser, since it's not included in the sale. But decorate the top of the dresser to add to the overall design of the room.
Use the rule of threes — arranging accessories in odd numbers, which is pleasing to the eye. Options include unlit candles, an empty jewelry box, succulents, a table lamp, books, small frames or a small flower arrangement.
How to stage a nightstand
Ideally, your master bedroom has enough space to fit a nightstand on each side of the bed. If there's only space for one, that's fine too. Just make sure to stage either way.
Select bedtime-ready items like a neat stack of books, then accessorize with flowers or a framed generic photo. Store personal items like glasses, medications, CPAP machines, water glasses or retainers. You'll also want to remove your alarm clock.
Staging a master closet 101
Regardless of the closet's size, it's important that it looks spacious, so it should only be about half full. You don't want buyers to open your closet door and see every square inch crammed full — they'll think the closet is too small to accommodate their needs as well.
In addition to removing your unused, old, and in the way belongings, here are a few other things you can do to stage your master closet.
Invest in organizers
A walk-in closet is wasted space without a closet organizer, and walk-in closets are a big plus. At the very least, a large closet should have double rods to make the most of the space. Hang clothes side by side on matching hangers and remove empty hangers. Use shelf space for nicely folded T-shirts and sweaters.
Sort by category
Group all hanging and folded items by category — shirts, pants, sweaters, etc. If you want to go even further, group items by color, within category.
Clear the hamper
An overflowing hamper is the ultimate closet-staging faux pas. While your home is on the market, expect to do laundry more often than usual and put it away as soon as it's clean and dry. If you can't keep the laundry pile under control, opt for a hamper with a cover or lid.
Provide ample light
If you're lucky enough to have a window in the closet, make sure it's clean with open curtains so you can let in as much natural light as possible. If you don't have a window, replace lightbulbs, perhaps adding brighter bulbs. If there's no lighting at all, hang a battery-operated touch light.
Tips for staging a kid's room
Staging a kid's room can be challenging, as they're usually filled with toys and decorated in a specific way. According to some of my most reliable resources, approximately 46 percent of recent buyers live with children under 18. That means you're just about as likely to have a buyer with kids as one without. So, your best bet is staging the room to look as neutral as possible so buyers can visualize the space to suit their needs.
Minimize toys
Store large toys like play tables, doll houses and tents elsewhere, if possible. Allow your kids to fill one lidded basket with the toys they want to use over the next few months and put everything else in storage. That way, pre-showing cleanup is always fast and easy. Use containers with lids or standing organizers with drawers for smaller toys, and tuck the whole organizer in the closet, if possible.
Neutralize the decor
If you have the inclination and means to freshen up paint in your bedrooms it can very helpful. It may not be necessary to paint trim and ceilings. Sometimes simply painting the walls can give you a fresh and clean look. Painting can be a DIY or a professional job, but no matter who does the painting, pick a neutral tone like gray, beige or off-white. Cover up or remove themes, murals or bright colors. You don't want buyers to think they'll need to do a big renovation to make the room fit their needs.
How to stage a small guest bedroom
Guest rooms are often a landing spot for items like unused furniture, toys, crafts, books, luggage and all kinds of other items. But buyers want to see the room as a bedroom, especially if they have a large family or frequently host out-of-town guests. If you're using a bedroom for another purpose, consider making it a bedroom again to appeal to buyers looking for a certain number of rooms.
Don't overcrowd the space
If your guest bedroom is small, remove unnecessary furniture. Just keep a bed, at least one nightstand (ideally two) and a single dresser if you have room. If the room is small consider using a smaller bed in the space to help the room appear larger.
Staging a bedroom with an air mattress
If you don't have a bed in your guest room, consider an air mattress. Place it on a foldable metal bed frame and dress it as you would a regular mattress, with clean sheets, a neutral bedspread and pillows. You can add a headboard, too, but it's not a must. Make sure the air mattress stays full of air and firm at all times!
Staging ideas for small rooms
If your guest room is too small for a full- or queen-sized bed and there are already at least two other bedrooms, consider staging a small bedroom as something else, like a home office or a nursery. It's better than leaving it empty or making it look like a glorified storage space.
If you are ready to sell your home let us help you! Contact Sylvia McLain Realtors now →